Ticks are not only a nuisance to your pets, they can also be a nuisance to you. Ticks are considered a public health threat because they can carry and transmit Lyme disease and Rocky Mountain spotted fever. We recommend putting your pets on flea and tick prevention, then calling the experts at Sure Kill Pest Elimination to treat your property. This will ensure your family and pets are protected from ticks, especially during the warmer months.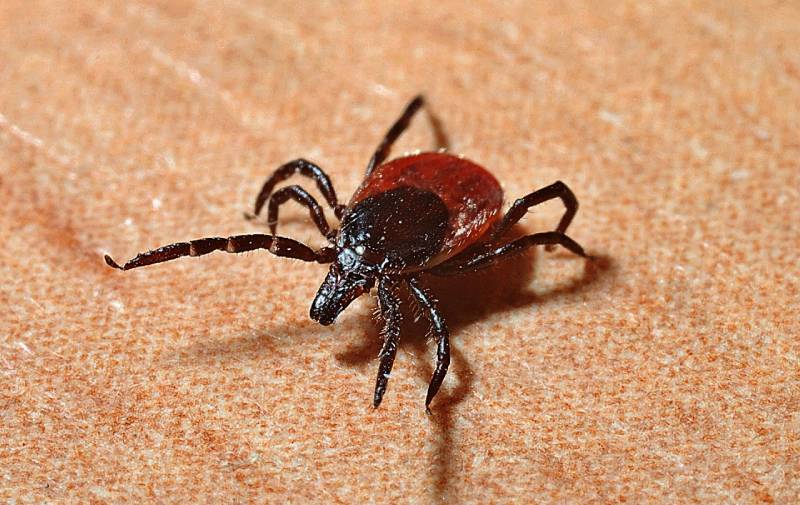 Our Unique Approach To Tick Control
The best time to start a tick control program is in Spring. If you're struggling to control ticks, give us a call. The team at Sure Kill Pest Elimination knows how to eliminate ticks and prevent future generations from breeding, giving you the long-term protection you deserve.
We'll perform a thorough inspection of your entire property to determine the severity of the tick problem. After the inspection is complete, we'll discuss the treatment plan with you.
We'll carefully apply liquid residual and insect growth regulators (IGR) to all cracks and crevices where ticks are known to harbor, paying close attention to the areas your pet(s) spend the most time. This approach kills the ticks on contact. Finally, we'll apply a dessicant dust to all baseboards and near pet bedding areas inside your home.
We'll apply a combination of liquid residual and insect growth regulators (IGR) to the areas that your pet(s) frequent or wherever there is tick activity. We'll pay close attention to tick harborage areas in your yard such as shrubs, tall brush, weeds, and tree lines.
Why Choose Sure Kill Pest Elimination
We're passionate about helping people just like you get rid of unwanted pest problems. As such, we are proud to be the only pest control company in
Fayetteville, NC
promising excellence in value, service, and trust.
Frequently Asked Questions
Ticks typically move onto animals or humans that brush up against grasses, weeds, or shrubs when passing by. Ticks then climb upward and find a spot to bite and feed. A large percentage of tick bites occur from ticks picked up during normal home activities such as gardening, backyard play or entertaining.
While tick bites can cause some discomfort, the real danger with ticks comes from the pathogens that some ticks carry. These pathogens can then be transmitted to other hosts the next time a tick attaches itself to feed. Lyme disease, Powassan virus, Rocky Mountain spotted fever, and tularemia are just a few of the tick-borne diseases that are transmitted by these pests.
The tick control process starts with your pet(s). There are numerous options available to treat your dog or cat, and these should be discussed with your veterinarian. Next, call us at [Phone] to schedule your tick treatment. We'll inspect your home and yard for tick harborage areas, then use the necessary products to eliminate your tick problem.
Get $25 OFF Initial Pest Control Treatment!
First time doing business with Sure Kill Pest Elimination? Get $25 OFF your initial pest control treatment when you sign up today!
Tick Control
Starting at...
Initial Service + 2 Follow-Up Inspections
Tick Inspection
Interior Tick Treatment
Exterior Tick Treatment
Satisfaction Guaranteed
★★★★★
"Super personable. Excellent customer service. We have been extremely happy with the services we have received from Sure Kill. You can not go wrong by hiring this company for any of your pest concerns. We have recommended him to family and friends as well. All have been pleased with the results."
- Allison J.
★★★★★
"Mike from Surekill is a dedicated and professional person who treats me as if I am his only customer even though he is very busy. He is very thorough and explains in detail what he is doing and why. My house and my yard are both bug-free and I have three dogs. Mike is awesome. Simply put!!!"
- Fred F.
★★★★★
"This company performed a termite job on my residence. The job was very professional and the owner Mike had a thorough knowledge of this business. I am under an annual contract inspection and highly recommend this company. I felt like he was treating his own residence."
- Jimmy R.